Coolants & antifreezes
Chevron Delo® XLI Corrosion Inhibitor Concentrate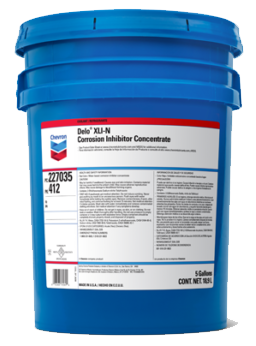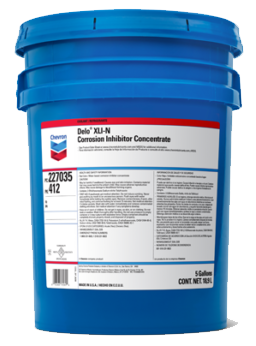 Coolants & antifreezes
Chevron Delo® XLI Corrosion Inhibitor Concentrate

Delo® XLI Corrosion Inhibitor - Concentrate is a water based, low toxicity, environmentally friendly, nitrite free carboxylate inhibitor.
Where to buy ›

Certified clean - ensure your lubricants meet OEM cleanliness requirements to help you minimize downtime, reduce maintenance costs and extend equipment life.
Fast facts
Supported equipment types






Delo Gear XLI Corrosion Inhibitor delivers value through:
Corrosion Protection
Corrosion protection for engine metals, including aluminum, iron, copper and solder alloys.
Wide Service Application
Recommended as a coolant for all types of cooling systems not requiring nitrite and where freeze protection is not required.
Long service life
The corrosion inhibitors in Delo XLI Corrosion Inhibitor - Concentrate contain a synergistic combination of mono and di-carboxylates that produce superior protection for a minimum of 600,000 miles, 960,000km, 12,000 hours, 6 years in on-road and off-road engine applications and 32,000 hours or 6 years in stationary engines. This product does ot require regular inhibitor additions if proper maintenance practices are used.
Compatibility
Delo XLI Corrosion Inhibitor- Concentrate is a super concentrate and should be diluted to 5.5%-10% with good quality water before use. Compatible with glycol-based engine coolants but further dilution of the Delo XLI inhibitors by more than 25% with other corrosion inhibitor technologies will reduce the effectiveness of this product.
Heat Transfer
Silicate and phosphate free formulation does not contribute to deposit build up, as can be seen with phosphate and silicate containing coolants, which can help maintain heat transfer efficiency.
Improved economics
No regular inhibitor additions and longer service life means lower overall maintenance costs.
Excellent toxicological and environmental aspects
based on low toxicity inhibitor's this product is readily biodegradable. The extended service life characteristic of this product contributes to the protection of the environment due to less frequent fluid disposal.
Easy Testing
inhibitor concentration testing can be easily done using a brix refractometer.
Recommended for the following OEM use as a cooling water inhibitor:
Detroil Diesel
Deutz (TR0199-2091)
GEC Alshom Ruston
Liebherr MD 1-36-130 (DCA)
MaK
MAN 248
MAN Diesel (2 stroke and 4 stroke engines)
MB 3112,0
MTU MTL 5049
MWM
Mewman-Haas Racing
Scania TI 2-98 0813 TB
Sulzer Diesel ZBS0503.doc
Ulstein Bergen
Wartsila 32-9011
Yanmar
Delo XLI is also recommended for use in an OEM equipment recommending a nitrite free, water based carboxylate based corrosion inhibitor.
Chevron Delo® ELC Antifreeze/Coolant
Havoline® Automatic Transmission Fluid MD-3
Chevron Delo® FleetFix CME
Chevron Delo® 400 ZFA SAE 10W-30
Chevron Delo® 400 XSP-FA 5W-30
To better understand your business needs, we've created this tool to help us find the right product for you.
Ensure your lubricants meet OEM cleanliness requirements to help minimize downtime, reduce maintenance costs, and extend equipment life.