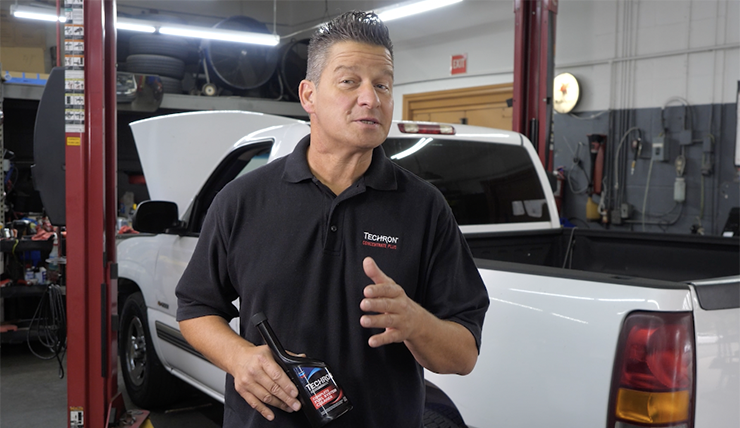 Learn more about Techron Complete Fuel System Cleaner 
from Frank Leutz, ASE certified mechanic.
Frequently asked questions
Why Engines Need Techron®
Normal, everyday engine combustion can cause carbon deposits to build up throughout the fuel system. Those deposits can clog the fuel injectors and impede the flow of fuel. Left unchecked for too long, they can impair engine power, start-up, acceleration, and fuel efficiency.

A new car is just as vulnerable to deposit buildup. As engine technologies advance, operating temperatures become hotter, fuel pressure increases, tolerances are tighter than ever, and fuel injector holes become smaller and more numerous. Deposits can start building up within the first few thousand miles. But here's the good news: Techron® is formulated to work in both older and newer engines.

If you regularly use a high-quality gasoline such as Chevron, Texaco or Caltex gasolines with Techron, using a bottle of Techron® Complete Fuel System Cleaner every season will achieve the best possible results.  It's similar to getting your teeth cleaned at the dentist a few times a year, it gives you that deep clean that regular brushing can't achieve.  
If you occasionally fill up with lower quality gasoline, you should use Techron® to help clean up deposits that can build up over time and negatively impact the performance of your vehicle. If you have a sensitive vehicle or you use it regularly under severe conditions, you may also benefit from using Techron®. Additionally, if you are buying a used vehicle and you're not sure of its history, Techron will help clean up harmful deposits in the engine and fuel system.

How Techron® Helps Improve Engine Performance