Industrial oils
Rando® WM 32
ISO 32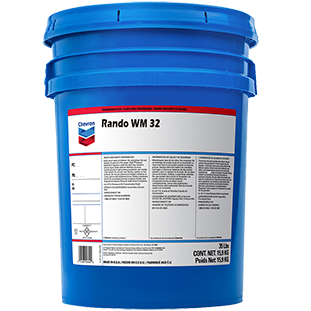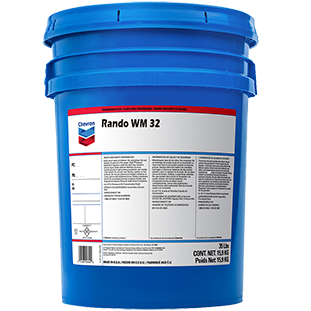 Industrial oils
Rando® WM 32
ISO 32
Rando® WM 32 is a high performance multigrade hydraulic fluid designed for use in wind turbine systems and a wide range of other applications. Rando WM 32 offers high level protection and performance under severe operating conditions
Where to buy ›
Fast facts
Supported equipment types








Rando WM 32 delivers value through:
Reliable low temperature fluidity
Helps promote good pumpability and critical component wear protection during cold system start-up 
Robust anti-wear and corrosion inhibitor systems
Helps contribute to greater system uptime performance and reduced maintenance costs 
Thermal stability performance
Helps to protect against oil degradation, deposit formation and helps promote extended fluid service life 
Dependable filtration characteristics in the presence of water contamination
Helps reduce maintenance downtime 
High shear stability
Helps to assist reliable protection and trouble-free performance for the life of the fluid, under high temperature, high pressure conditions
Rando WM 32 is recommended for use in wind turbines and in many types of high pressure hydraulic systems operating across a wide ambient and operating temperature range.
Rando WM 32 is suitable for systems with gear, vane, radial and axial piston pumps.
Rando WM 32 is approved for:
• Vestas Wind Systems 0000-2843Rando WM 32 meets the requirements of:
• ASTM D6158
• DIN 51524-3, HVLP
• ISO 6743-4 HV, 11158
• Swedish Standard SS 15 54 34, SMR 1996-2
• Vickers M-2950S, I-286
Refer to the service manual of the equipment to ensure that the minimum fluid viscosity requirements are met at the highest operating temperature. Please consult with your equipment manufacturer if equipment is operating outside normal operating conditions.

Clarity® Synthetic Hydraulic Oil AW
We've got you covered with a full line of lubricants, transmission fluids, gear oils, greases, hydraulic oils and coolants
Ensure your lubricants meet OEM cleanliness requirements to help minimize downtime, reduce maintenance costs, and extend equipment life.
Learn how you can improve your operation's reliability with an on-site lubrication assessment.
Keep your equipment running better longer with LubeWatch® routine testing and analysis