Hydraulic oils
Chevron Synthetic All-Weather THF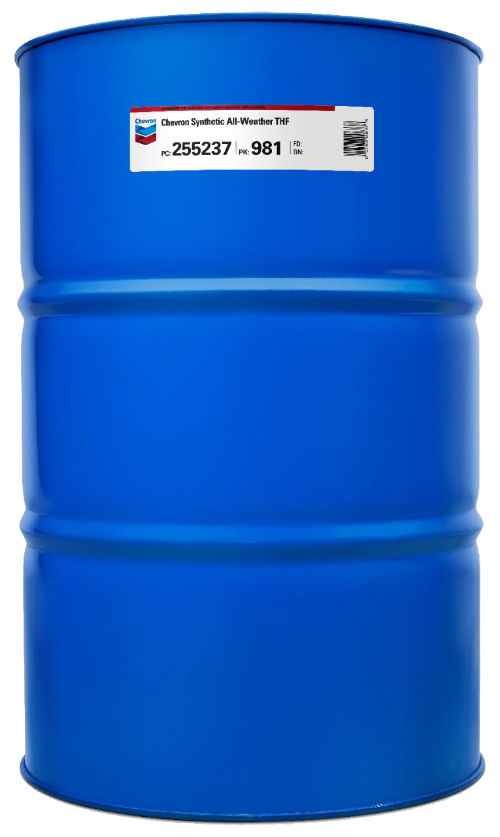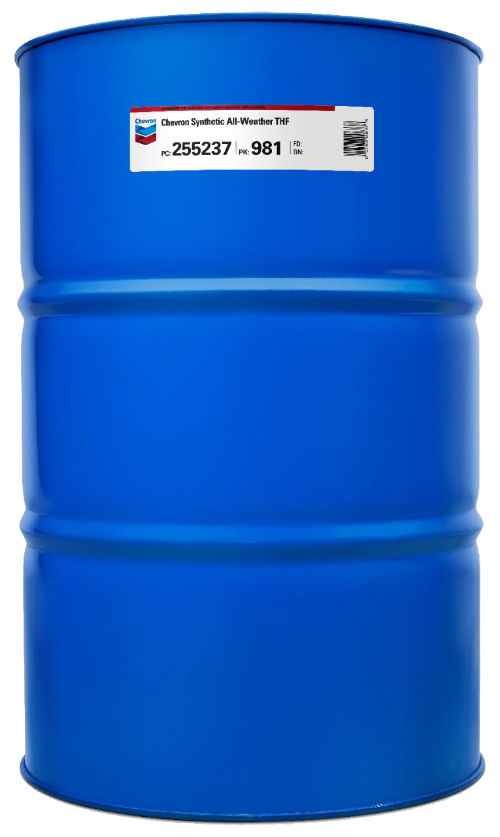 Hydraulic oils
Chevron Synthetic All-Weather THF

Chevron Synthetic All-Weather THF is a unique, high quality, multifunctional tractor hydraulic fluid, specially formulated for use in transmissions, final drives, wet brakes, and hydraulic systems of tractors and other equipment employing a common fluid reservoir.
Where to buy ›

Certified clean - ensure your lubricants meet OEM cleanliness requirements to help you minimize downtime, reduce maintenance costs and extend equipment life.
Fast facts
Supported equipment types


Chevron Synthetic All-Weather THF delivers value through:
Low operational costs
 Excellent performance in a wide range of ambient and operating temperatures provides year round improved low temperature hydraulic and transmission responsiveness. 
Long oil life
Outstanding ability of the base stock to withstand oxidation at high operating temperatures results in maximum service life of the oil.
Long equipment life
Special additives help to protect metal surfaces against scuffing and wear even under severe operating conditions.
Low inventory cost
Chevron Synthetic All-Weather THF has the potential to replace many of the other hydraulic fluids in your inventory which can significantly free up space in your warehouse and minimize your carrying cost. Always confirm that the Chevron product selected is consistent with the original equipment manufacturer's recommendation for the equipment operating conditions and customer's maintenance practices.
Minimalized weather and storage concerns
Protects against rust and corrosion of highly finished precision parts when operating in humid conditions and during seasonal shutdown periods
Minimal downtime
Good compatibility with seals, O-rings, and packing materials maintains their good condition and keeps leakage at a minimum.
Smooth operation
 By protecting against brake "chatter" and transmission "slip" it maximizes the quiet and efficient action of brakes and transmission.
Reliable operation
Formulation helps keep metal parts clean and free of varnish and sludge deposits that could result in premature breakdown.
Chevron Synthetic All-Weather THF is recommended for use:

• as a multifunctional and multi-seasonal fluid in many types of tractors and construction equipment.
• in applications which call for the following OEM lubricant specifications:

— AGCO power fluid 821XL
— Case Corporation JIC-143, JIC-145, MS 1206, MS 1207, MS 1209, MS 1210 (TCH)
— Caterpillar TO-2[1]
— Ford New Holland ESN-M2C134-D, FNHA-2-C-200.00, FNHA-2-C-201.00
— International Harvester B6
— John Deere JDM J20C, JDM J20D
— Kubota UDT
— Massey Ferguson M1127*, M1129A*, M1135*, M1141, M1143, M1145
— Minneapolis-Moline Q-1722*, Q-1766*, Q-1766B*
— Oliver Q-1705*
— Renk Doromat 874A* and 874B*
— Volvo 97303 (WB-101)
— White Farm Equipment Q-1826*
[1]Caution: Some of the specifications are no longer deemed active by the original equipment manufacturer. Significant harm to the transmission,
hydraulic system, seals, final drive or axles is possible when using this product in applications in which it is not intended.
Chevron Synthetic All-Weather THF is an excellent hydraulic fluid for many types of tractor hydraulic systems. It passes the High Pressure Vane Pump Test,
ASTM D2882, with less than 15 mg steel weight loss. 

Chevron Delo® ELC Antifreeze/Coolant
Chevron Automatic Transmission Fluid MD-3
Chevron Delo® FleetFix CME
Clarity® Synthetic Hydraulic Oil AW
We've got you covered with a full line of lubricants, transmission fluids, gear oils, greases, hydraulic oils and coolants
Learn how you can improve your operation's reliability with an on-site lubrication assessment.