Break the 25,000 Mile Habit
Longer drain intervals are standard with today's trucks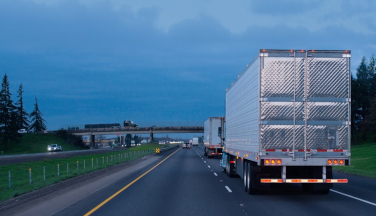 Who isn't interested in extending oil drain intervals? We spend a lot of time working with trucking fleet maintenance managers who are looking for ways to safely extend the mileage between oil changes. For many, it is among their top priorities. The cost benefits are readily apparent: less oil consumption, reduced equipment downtime, and greater efficiency in the maintenance shop.
The good news is that if you are upgrading your fleet with newer trucks, you probably don't need advice from a petroleum engineer. As CCJ Chief Editor Jason Cannon wrote in an article last June, the answer may be right there in your owner's manual.
Some operators are always looking to push the boundaries on extending drains, but many others are more conservative. They stick with the long-standing rule of thumb that a change every 25,000 miles is the safe way to go. However, as we told Jason in the CCJ article, engine builders and oil companies alike have worked hard over many years to make improvements that have greatly extended oil life and allowed for longer maintenance intervals. Changes in engine design have dramatically improved efficiency, which helps cut down on oil consumption. At the same time, Chevron and other lubricant producers have enhanced oil chemistry to improve soot and oxidation resistance, enabling oils to withstand higher temperatures and sustain higher performance levels over longer periods of time.
As a result, it might surprise you that some OEMs are now recommending intervals of 60,000 to 75,000 miles, depending on the duty cycle, as standard on newer model truck engines. These longer intervals are largely a reflection of improved fuel economy of today's trucks at normal highway speeds. Higher miles-per-gallon (MPG) means that the engine doesn't have to work as hard, and is therefore putting less stress on the oil.
Simply stated, fleets stand to save a lot of money just by following the OEM's oil drain recommendations for their newer vehicles. But what about the boundary pushers? Is there still room to extend beyond the manufacturer's recommendation, as we often saw with the previous generation of engines? The answer is a qualified yes. Some trucks can go as much as 100,000 miles between drains under certain circumstances. If you want to try and go further, it's important to engage with the manufacturer and your oil supplier to put together a methodology that will allow you to do so safely, comfortably, and responsibly. Many OEMs actually have extended drain programs. They'll examine your duty cycle and maintenance practices, and perhaps set up an oil analysis plan to help determine an appropriate strategy specific to your operation.
One thing we recommend staying away from is aftermarket oil additives that purport to increase drain intervals. That is a risky proposition. Off-the-shelf additives may contain dangerous levels of chemicals that are harmful to exhaust aftertreatment systems, and will upset the precise chemical balance of the original oil formulation. Moreover, use of aftermarket additives will render your manufacturer's warranty null and void. Other lubricant suppliers have corroborated this point of view.
What you can do is look at the benefits of premium oil products that may be able to provide you with enough of a mileage buffer to warrant paying a slightly higher price. More to the point, this is a good opportunity to look at moving to full heavy-duty synthetics. From the lubricant perspective, a synthetic is probably the easiest route to longer drains, with their low volatility, oxidation stability and longer life overall. Again, your lubricant supplier or marketer should be able to advise you on moving to a premium or synthetic product that suits your operation.
There's no point in persisting with old habits and applying yesterday's thinking to today's trucks. Both engine and lubrication technology have evolved substantially and will continue to. Fleets that are ready to adapt to change stand to reap big financial gains.