Simplify Inventory Management to Increase Efficiency and Reduce Waste
Chevron's PitPack® packaging solution is the answer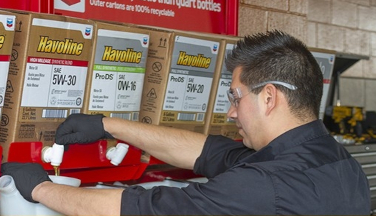 Efficient inventory management is key to running a profitable fast lube business and these days it has become an even bigger balancing act. Engines are transitioning from legacy to more modern, fuel-efficient technology, thereby creating a need for full synthetic oils. People are also holding onto their vehicles longer, leading to increased demand for specialty products such as high-mileage oils. We're seeing more SUVs, pickups and vans used in everyday driving. And there is a broader mix of domestic and foreign models on the road, which have different oil specifications.
These market conditions encourage fast lube owners to maintain a wider selection of products to accommodate various engine requirements, while simultaneously trying to avoid idle or slow-moving inventory, which can be detrimental to cash flow and profitability. Fast lube owners must have a good sense, backed by solid metrics, of the oil preference trends in their local market. Is there more of a demand for synthetics? Are customers' odometer readings trending upward? What is the rate of foreign versus domestic makes coming into the shop? Are customers less concerned about price and more open to premium product recommendations? Keeping track of trends like these can help to better determine the right mix of products for their business.
Then there is the matter of product storage and handling. Keeping oil in bulk in drums is no longer practical or efficient and does not help your shop appearance. Quart bottles present awkward storage problems. Furthermore, dispensing oil from quart bottles can be cumbersome because it slows down the oil change process. Also, the accumulation of empty, non-reusable plastic bottles adds to landfill waste. As we all strive for environmental stewardship, customers observe these issues and, as a result, direct their business to establishments that follow good environmental practices.  
 A viable alternative to traditional quart bottles and bulk oil in drums is bag-in-a-box packaging. This packaging allows more flexibility to stock a wider variety of products in less space, speeds the oil change process, improves shop organization and reduces a tremendous amount of plastic waste, thus enticing many operators to easily switch from both the bulkiness of drums and the inefficiencies of quart bottles.
Chevron's PitPack packaging solution is an example of a storage, display and dispensing system that addresses a number of issues facing service centers and fast lube operations. First, it enables the shop to efficiently stock a variety of Havoline® and Delo® products in a range of formulations and viscosity grades to meet customers' increasingly diverse oil needs. Depending on the rack unit size, the packaging can accommodate either four or eight six-gallon boxes, which are 100% recyclable. The bags inside use 89% less plastic than a conventional quart bottle – the equivalent of saving 21-quart bottles per bag from going to the local landfill.
Besides being eco-friendly, the PitPack system is also tech-friendly. Dripless dispenser nozzles make it easy to transfer oil into reusable six-quart jugs, with special lids that reduce the risk of dust or dirt contamination. From there, installers can pour the oil directly into the vehicle's oil reservoir. Installers can perform changes more quickly, with much less spillage, if any at all, and cars move through the operation faster. That not only makes customers happy, but also improves throughput and enables the operation to handle more volume.
At Chevron, supplying automotive service shops with a wide range of high-quality products is just the beginning. We are always working on ways to help our customers operate more profitably, improve customer satisfaction, and reduce their environmental impact. The PitPack inventory management system is just one example of these efforts. For additional ways to help make fast lube businesses more efficient, contact us and we'll put you in touch with an automotive installer business consultant.