New Havoline® Lifelong Protects Both New and High Mileage Vehicles
Exclusive agreement with Walmart includes expanded distribution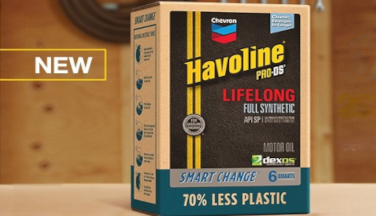 Most people probably agree that having choices is a good thing. But when you're talking about products on the retail shelf, too much choice can be problematic. For the retailer, it means having to carry multiple SKUs and take up more shelf space with variants of the same brand. For consumers, being confronted with too many choices at the shelf may result in them making no choice at all – meaning a lost sale opportunity.
The Havoline® motor oil team at Chevron has been working closely with Walmart, the largest retailer of Havoline products, to address this issue in the premium passenger car motor oil segment. The result of this collaboration is the new Havoline Lifelong Full Synthetic motor oil, a specially branded version of the Chevron Havoline PRO-DS® High Mileage Full Synthetic motor oil, launching exclusively with Walmart. This top-tier synthetic is part of the new Havoline passenger car product line formulated to the GF-6 standard and introduced in the fourth quarter of 2020. What's different about Havoline Lifelong Full Synthetic is that, unlike competing high-mileage offerings, it delivers outstanding performance at any stage in a vehicle's life, from brand new to over 75,000 miles.
With Havoline Lifelong, Walmart won't have to stock two separate SKUs to meet customer demand. And for do-it-yourself (DIY) oil changing consumers, the buying decision is easier, since they can have a single high-performance full synthetic motor oil that suits their needs at any mileage stage.
Havoline Lifelong is being sold in the eco-friendly Smart Change® package, which has proven immensely popular with  customers, based on their feedback to Chevron. The 6-quart Smart Change package represents a better value than typical
5-quart jugs, and it uses 70% less plastic than quart bottles.
Walmart carries select Havoline products in some 1,200 stores, primarily in the southeastern United States. With the launch of Havoline Lifelong, Walmart is expanding its distribution of Havoline motor oil to an additional 250 stores, mostly in western states. The product will also be available at Walmart's online store. Find out more about Havoline Lifelong and the Havoline Smart Change products at HavolineSmartChange.com.
Havoline Lifelong gives Chevron and Walmart a strong, competitive entry in the top-tier full synthetic high mileage category. And it gives consumers a single oil they can trust over the life of their cars – meaning they will very likely become loyal, "lifelong" customers for Havoline.