Introducing Chevron xpress lube®
A new opportunity for fast lube operators to grow with a national brand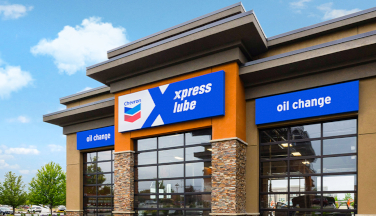 Chevron recently announced the official rollout of the company's new Chevron xpress lube® program for qualifying U.S. fast lube owners and investor prospects. With the inaugural Chevron xpress lube location now operating in Fountain Hills, AZ and another impressive facility in Meridian, ID, Chevron anticipates strong interest in its new image program.
Complementing Chevron's heritage Havoline xpress lube® brand, the Chevron xpress lube brand identity offers qualifying prospects the opportunity to leverage one of the most established, trusted brands in America, regarded for premium quality products and attracting loyal, discerning consumers. All xpress lube locations are independently owned and operated under a brand sales and license agreement with owners retaining operating flexibility without traditional franchise or royalty fees.
As part of the program, Chevron xpress lube locations stock and sell Chevron's premium product brands; Havoline® for passenger car motor oils, automatic transmission fluids, gear lubricants and antifreeze/coolants, Techron® for gasoline and diesel aftermarket fuel additives, and Delo® for heavy-duty diesel engine oils. Brand requirements for maximum visibility and awareness entail primary identification signage at the street and on the building, a dedicated mobile-responsive website and social media platforms, employee uniforms, oil change clings and a digital menu board.
Chevron's new xpress lube® shopper program™, designed to sustain Chevron brand equity, will require xpress lube locations to maintain minimum customer satisfaction and image scores with a built-in reward system for top-performing sites – a system that contributes to high customer retention and acquisition levels. Plus, business owners have access to industry experts that are committed to helping them thrive and achieve their business growth objectives.
Chevron xpress lube represents a new and exciting opportunity for independent oil change operators to grow their business with a national brand. To learn more, visit chevronxpresslube.com.