2021 Delo® Tractor Restoration Competition Crowns 2nd Female Winner in its History
Congratulations to Annika Ernstrom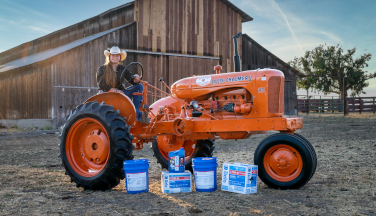 Annika Ernstrom of San Luis Obispo, California, says it was an "absolute surprise" when she was declared the winner of the 2021 Delo® Tractor Restoration Competition. "There was no way that was even possible in my mind!" she says.
Annika is only the second individual female Grand Champion in the competition's 26-year history (following in the footsteps of 2003-04 winner Tabetha Hammer.) And unlike most of the entrants over the years, Annika is one of the few that did not come from a farming background. "My family is about the furthest from a farming family you'll ever find," she laughs. She did, however, grow up with strong mechanical inclinations and dreams of someday owning a ranch.
In high school, Annika got involved with the FFA farm power team and began learning about agricultural machinery. Other members of the team were competing in the regional Tractor Restoration Education Program sponsored by JB Dewar, a Chevron Lubricant marketer in central California. Annika and her good friend Elyse Evers decided to give it a shot, fixing up a 1957 Ford 600 tractor. "It was definitely a learning experience, because neither of us had a clue what we were doing," she recalls. They performed well enough, however, that they were encouraged to enter their project as a team in the national Delo competition.
To their surprise, Annika and Elise were finalists in 2020, which simply fueled Annika's drive to work harder and do better next time. She took on a 1948 Allis-Chalmers WC, tearing it down completely so she knew every part, what it did and how it worked. "It was really rough, but somehow I made it," she says. "I just tried my best and had fun with it, and it's been a really incredible experience."
In the Delo competition, an impeccable restoration is just the beginning. Participants also need to make a presentation to the judges and explain their work. "Honestly, I'm very introverted and soft-spoken, and the public speaking was difficult for me the first year," Annika says. By the second year, however, she had overcome the stress and fear of talking to people. "I said I'm just going to do the best I can, tell them about this tractor and see what happens." Some of the judges commented that her improved performance over the previous year was a factor in her win.
Annika is now a freshman at Cuesta College in San Luis Obispo, studying automotive technology with the goal of becoming an ASE-certified Master Technician. She has had job offers and even started her own business restoring tractors for people in her area, not just for shows but for actual use on their farms.
"The whole Delo competition was a really fun experience," Annika says. "I got to meet a lot of new people and it was really nice to make connections with the judges." Having been through the rigors of the competition not once but twice, she has some sage advice for younger people thinking of trying it. "If you're interested, go for it, even if it's out of your comfort zone. I know it was definitely out of mine. There were a lot of times that I didn't know what I was getting myself into. But that's the whole adventure. It will be a lifetime experience that will pay off beyond what you could know."