From Restoring Tractors to CEO: One Woman's Amazing Journey
It All Began at the Delo® Tractor Restoration Competition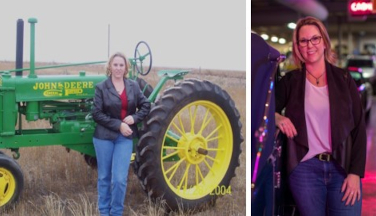 As President and CEO of America's Automotive Trust, Tabetha Hammer coordinates a nationwide network of classic car museums, shows and enthusiast organizations, all dedicated to honoring the country's automotive heritage and car culture. It's a remarkable career achievement for anyone, but especially for a woman who grew up on a farm in Pueblo, Colorado. And it's one she never envisioned back in 2003, when she first won the Delo Tractor Restoration Competition.
"Everything and everywhere I am now started with that rusty old 1935 John Deere Model B, which was the first tractor I restored for the contest," Tabetha says. "I never could have imagined the career path that it sparked and the places it has led me to. And part of that has been because of the support from the Chevron team."
Now in its 24th year, the Delo Tractor Restoration Competition has given many young people a head start in their careers. Not only must they bring their mechanical skills up to a professional level, but they also acquire critical project management, presentation, and public speaking skills in the process.
"As the youngest, I had to follow in my brother and sister's footsteps," Tabetha recalls. "They both competed in their high school years. My sister was the first female to place in the top finalists, and my brother made it to the nationals prior to that. It was just what we did in our family."
After winning first prize in 2003, Tabetha repeated the feat the following year with another John Deere tractor – this time a 1928 Model D. The resulting publicity caught the attention of a recruiter from McPherson College in Kansas – one of the few institutions in the world that offers a four-year degree in vehicle restoration.
Her degree from McPherson led to an internship and then a full-time job with Hagerty, a global automotive enthusiast brand and the world's largest membership organization for car lovers. "I oversaw their youth, education, and heritage initiatives," Tabetha says. "That was really important to me. In everything I've done, I always kept in mind how a program can be more than just fun – it can be life changing for someone, as it was for me."
Tabetha's 11 years with Hagerty culminated in her appointment as Director of the prestigious Greenwich Concours d'Elegance. She was then recruited for her current position, which she assumed in early 2021.
Throughout her career, Tabetha has stayed connected to the tractor restoration competition, appearing in the Chevron booth at the FFA (previously known as Future Farmers of America) convention and interviewing finalists before they made their presentations. This year, she is serving as a pre-judge for the contest, the phase of judging that determines who among the many entrants will be the 12 finalists. The winners will be announced at a ceremony on Thursday, October 28 at the 2021 FFA Convention in Indianapolis.
"It's really important for the Chevron community, from business leaders to consumers, to recognize the impact that the contest has on individuals and on families." Tabetha says. "It is more than just a contest. It's a way of life."
Even as a CEO, Tabetha still finds time to get into the garage. "I still love to have grease under my nails, for sure. I bought my first motorcycle last summer, a 1974 BMW R60/6, and I bought it as a project bike. It's still a big part of my life – even though I spend most of my days behind a desk now."