Greases
Delo® Grease ESI HD Moly 3% EP
NLGI grade: 1, 2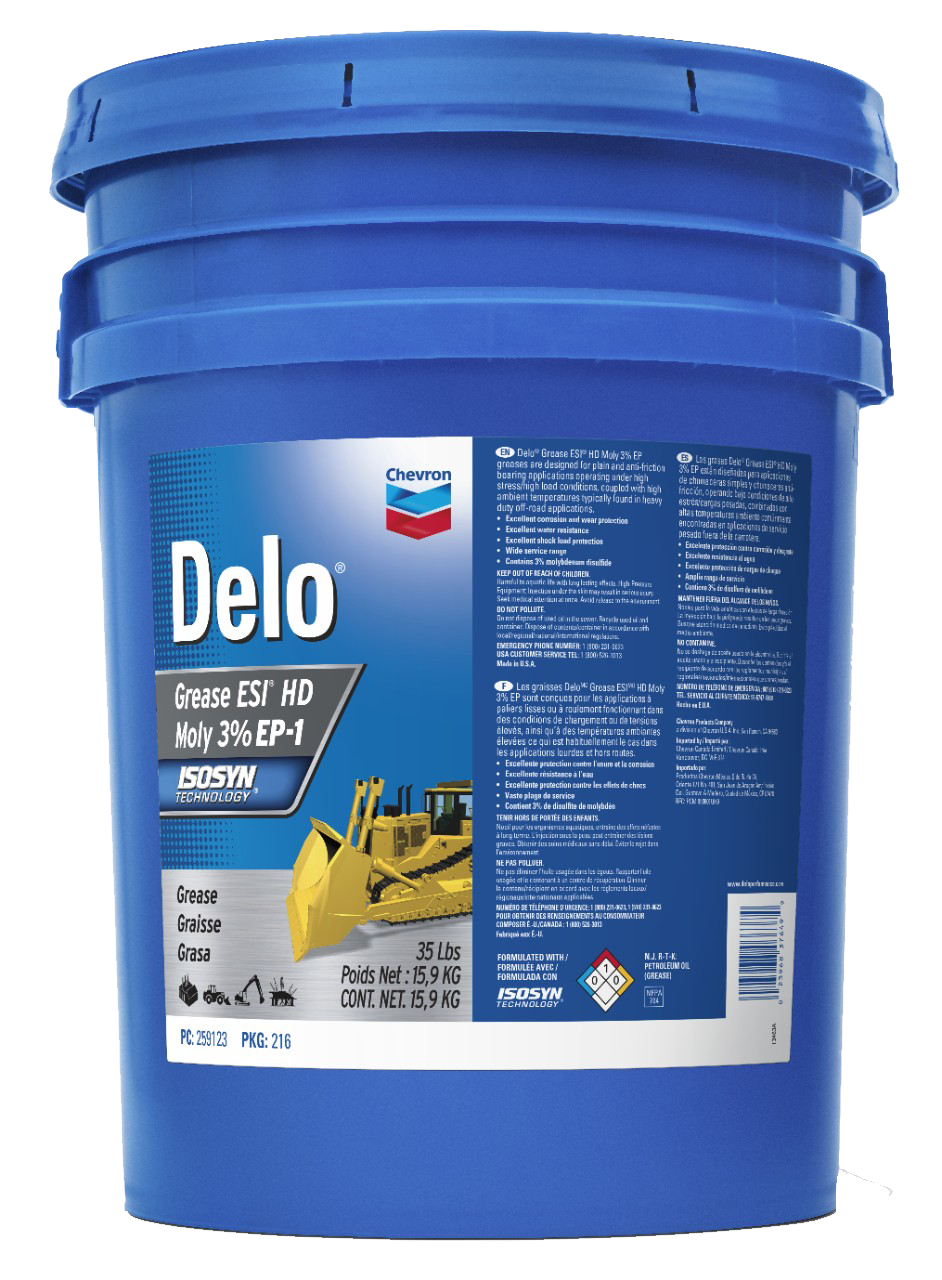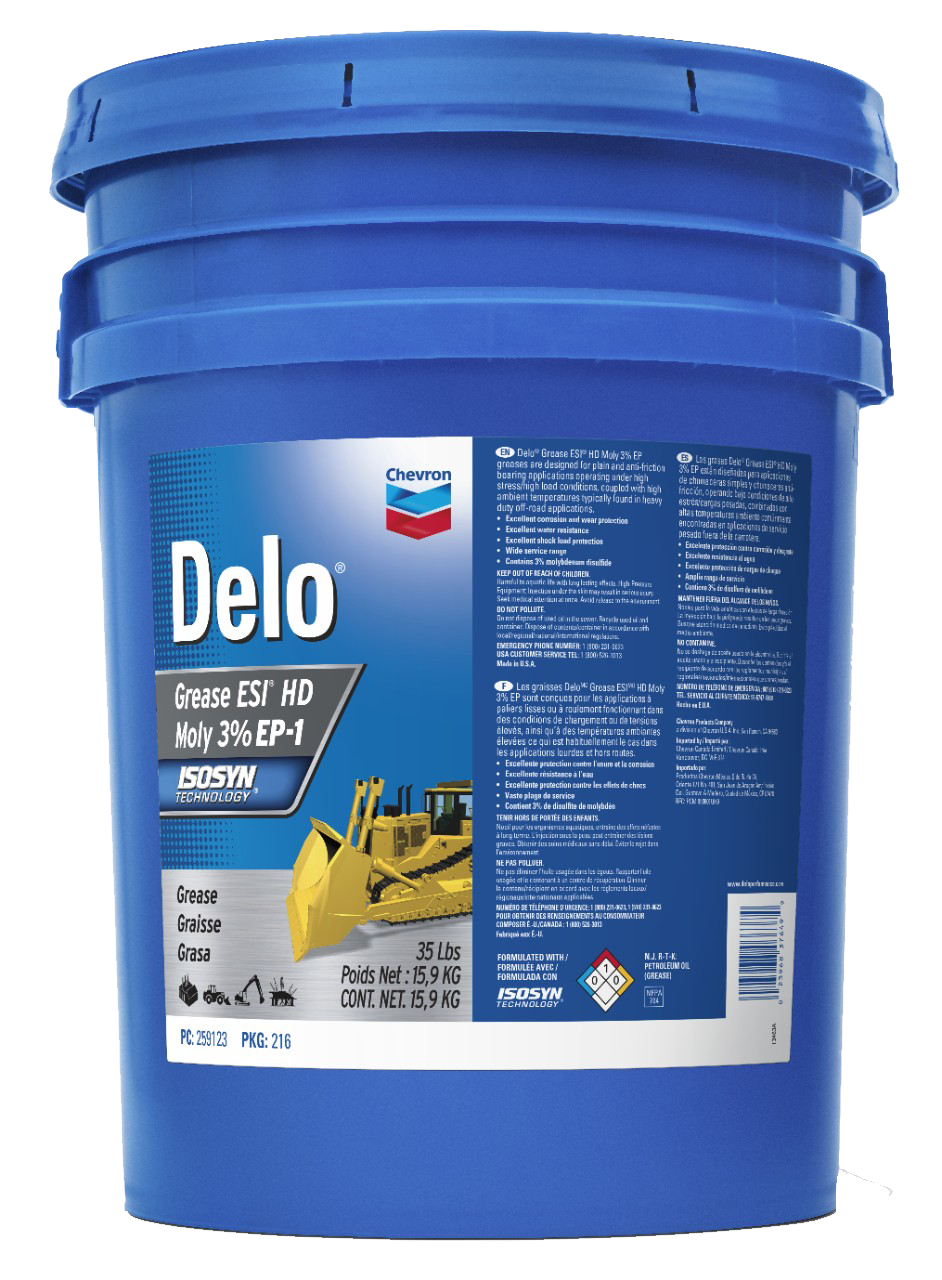 Greases
Delo® Grease ESI HD Moly 3% EP
NLGI grade: 1, 2
Delo® Grease ESI® HD EP is a comprehensive line of greases that are available with or without molybdenum disulfide. These greases are designed for plain and anti-friction bearing applications operating under high stress/high load conditions, coupled with high ambient temperatures typically found in heavy duty off-road applications.
Where to buy ›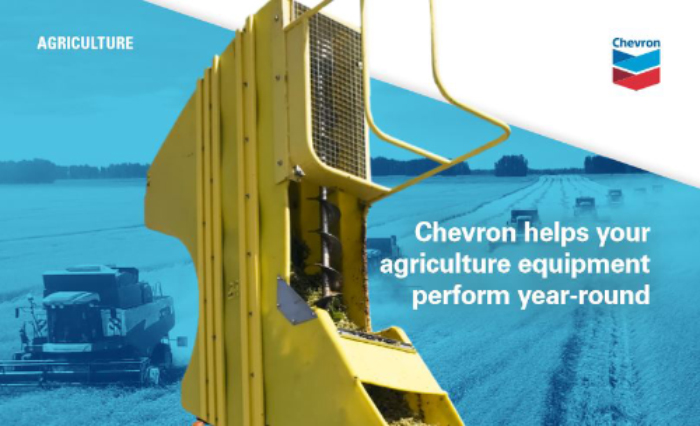 Chevron lubricants are formulated to help your ag equipment perform year-round, from planting season to peak harvest
Fast facts
Supported equipment types










Delo Grease ESI HD Moly 3% EP grease delivers value for the off-road construction and mining industries by offering:
Corrosion and wear protection
Water resistance
in both submerged and direct pressure spray situations
Performance across a wide temperature range
from extremely hot to extremely cold conditions, this unique Heavy Duty EP product line delivers when needed most
These greases are recommended for applications operating over wide temperature ranges.
Delo Grease ESI HD EP greases are not intended for use in high-speed bearing applications such as those found in electric motors due to the greases' high viscosity base stocks formulation. When in doubt, please consult your Chevron representative or OEM maintenance manual for application parameters when considering a switch to these greases

Chevron Delo® FleetFix CME
Chevron Delo® Syn-Trans HD
Chevron Delo® 400 ZFA SAE 10W-30
Chevron Delo® 400 XLE SAE 15W-40 (Synthetic Technology)
To better understand your business needs, we've created this tool to help us find the right product for you.
Learn how you can improve your operation's reliability with an on-site lubrication assessment.