Now a Synthetic Solution for the Caterpillar FD-1 Final Drive Lubricant Spec
Delo® TorqForce Syn FD-1 is specifically designed for use in final drives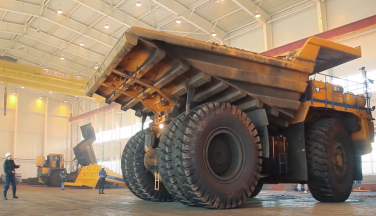 Lately, we've seen an increased interest in synthetic lubricants for heavy duty off-highway equipment like excavators, bulldozers and mining haul trucks. As we've mentioned in previous columns, the advantages of a synthetic fluid include the ability to perform over a wide temperature range all year-round, or for job sites that are subject to extreme heat or cold. Also, synthetics offer the opportunity for longer service intervals.
After Caterpillar announced its FD-1 specification for final drive axle lubricants under heavy load pressure, Chevron introduced Delo® TorqForce SAE 60, a mineral-based solution formulated to meet the FD-1 specification. Now, in response to many customer inquiries and after years of R&D, we're introducing a synthetic version: Delo® TorqForce Syn FD-1. It is a premium, multigrade, full synthetic lubricant specifically designed for use in final drives, differentials and axles of modern Caterpillar off-road equipment, including mining trucks and dozers. The purpose of the FD-1 spec was to ensure that lubricants for today's Caterpillar off-road equipment could handle heavier gear and bearing loads and higher temperatures than those operating under the older TO4 specification. Delo TorqForce Syn FD-1 meets and, in some cases, exceeds the performance requirements of the Caterpillar FD-1 specification.
In extensive field testing, Delo TorqForce Syn FD-1 was proven to provide protection for components well beyond the industry-standard 4,000 hours, enabling operators to extend service intervals to at least 6,000 hours, saving on maintenance costs and reducing equipment downtime. Formulated with an advanced additive system and our patented ISOSYN® technology, Delo TorqForce Syn FD-1 also exhibited excellent oxidation stability, a critical requirement to prevent viscosity fluctuation, deposits, varnish formation and excessive wear under high-temperature conditions. Most importantly, Delo TorqForce was proven to protect heavily loaded gears and bearings against wear over the long term.
Delo TorqForce Syn FD-1 delivers on all the rugged performance demands of the FD-1 specification, now combined with the benefits of a synthetic lubricant. All of these features should translate to longer overall equipment life for Caterpillar heavy duty equipment used in mining and construction. Do not hesitate to contact us for guidance on applying Delo TorqForce Syn FD- 1 to your specific equipment types and operating needs.