Meeting the Allison TES 668™ Standard for Automatic Transmission Fluids
Improve transmission performance and durability by upgrading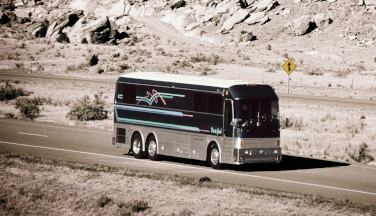 If you know truck components, you're certainly familiar with Allison Transmissions. Allison is the largest global manufacturer of fully automatic transmissions for medium- and heavy-duty commercial vehicles, including on-highway trucks and buses. In 2020, Allison announced a significant update to its high-performance fluid standards with the launch of TES 668™, billed as the "next generation" in transmission fluids. TES 668 is specified for all Allison 1000, 2000, 3000 and 4000 series automatic transmissions.
To enable our fleet customers to keep pace with this change, Chevron has introduced Delo® Syn ATF 668, a full synthetic automatic transmission fluid engineered for the TES 668™ specification for Allison transmissions. Delo Syn ATF 668 is officially approved and licensed by Allison for automatic transmissions requiring a TES 668 fluid. It is also backwards-compatible with Allison-approved TES 295®, TES 389® and TES 468® fluids, making for an easy transition.
Consistent with Allison's goal in developing this new spec, Delo Syn ATF 668 is formulated with synthetic base oils and state-of-the-art additives that offer significant advantages over mineral-based, non-synthetic fluids, including better clutch friction control and wear protection. In testing, Delo Syn ATF 668 was shown to deliver improved transmission performance and clutch operation compared to TES 295 fluids, resulting in smoother shifts at lower speeds and over a wider temperature range. It also helps prevent the accumulation of deposits and the formation of sludge, varnish and foam. Its advanced anti-shudder durability reduces noise and vibration, even in severe operating conditions. And its improved anti-wear, anti-oxidation formulation allows for extended drain intervals and a longer service life, which should translate to lower maintenance costs.
Even though Allison is not requiring customers to upgrade to the TES 668 specification, the company is recommending that current users of TES 295, 389 and 468 fluids start the transition. The good news is your transmission will still be covered by the OEM warranty (in this case, Allison) when you use an Allison-approved and licensed ATF. The new fluid also allows for the same drain intervals as the previous products.
Using the licensed and authorized TES 668 fluid can optimize the performance and durability of Allison transmissions. For commercial and municipal fleet operators that rely on Allison transmissions, you can confidently make the transition to Delo Syn ATF 668. 
*Always confirm that the product selected is consistent with the original equipment manufacturer's (OEM) recommendation for the equipment operating conditions and customer's maintenance practices.