Gas Compression and Processing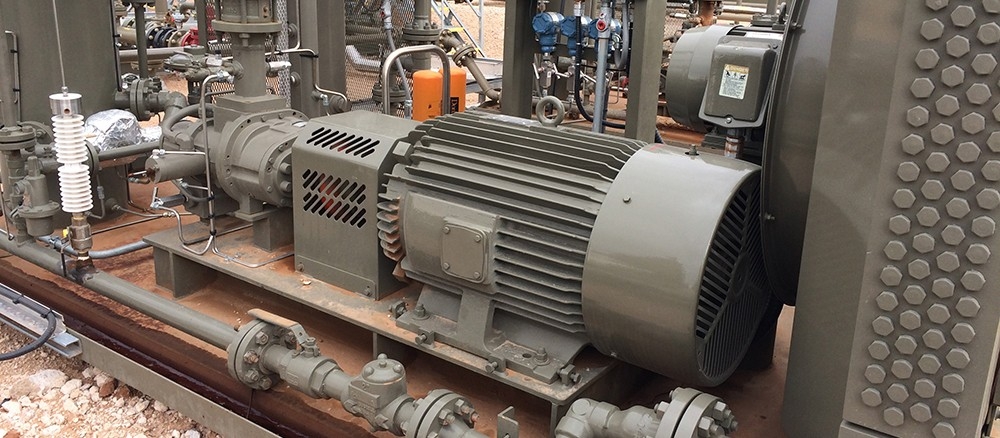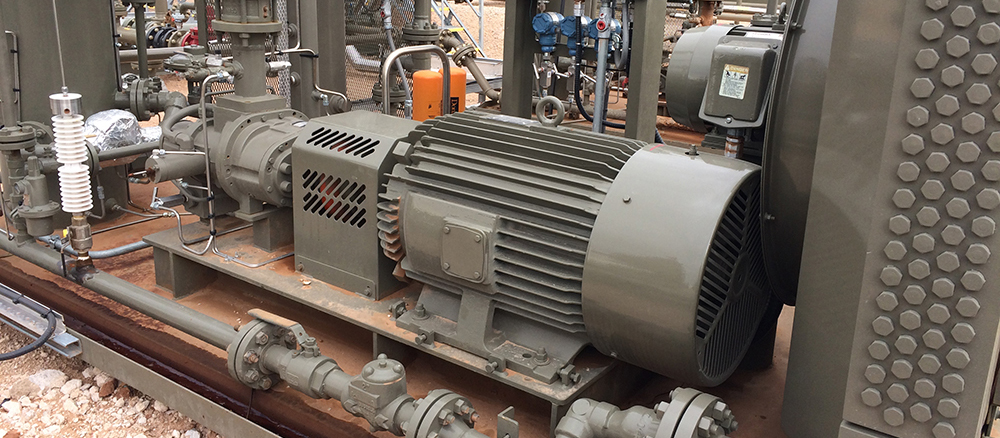 Keep your production stream flowing
Across a wide range of gas types and compressor designs, we help you conquer severe conditions and boost reliability. Our industrial lubricants provide long-lasting protection, to help you minimize operating costs and achieve the uptime you need.  

Lubricate for reliability
Every aspect of a compression operation is challenging. Equipment designs and capacities can vary across your compressor fleet, and the loads on that equipment can fluctuate dramatically. Chevron lubricants allow you to handle all these variables more efficiently, to help make your equipment and your overall operation more reliable. We formulate products for long life with various gas compositions, allowing you to minimize wear, deposits and downtime, no matter what sizes and types of engine compressors you're running. 

Make your operation more efficient
When you're running several compressors in multiple locations across vast and remote tracts of land, efficient logistics become a crucial contributor to your bottom line. Chevron can help, not only with lubricants that can extend drain intervals and minimize unscheduled maintenance, but also with reliable service and delivery, so you can be sure your day tank is filled and your operation is supplied.

Work with us to build your business
Chevron Lubricants has developed products, programs and expertise specifically to help our compression customers succeed. We understand the challenges you face around the clock and the significant operating budget that is dedicated to lubricants. We can help with product recommendations that best fit your engine and compressor fleet and gas properties. You also benefit from our experienced marketers who are used to serving compression operations in remote locations and have specialized knowledge, training, equipment and delivery systems to serve your needs. With Chevron, you're able to concentrate on your end product, knowing that you have a strong ally helping you keep your equipment lubricated, protected and producing.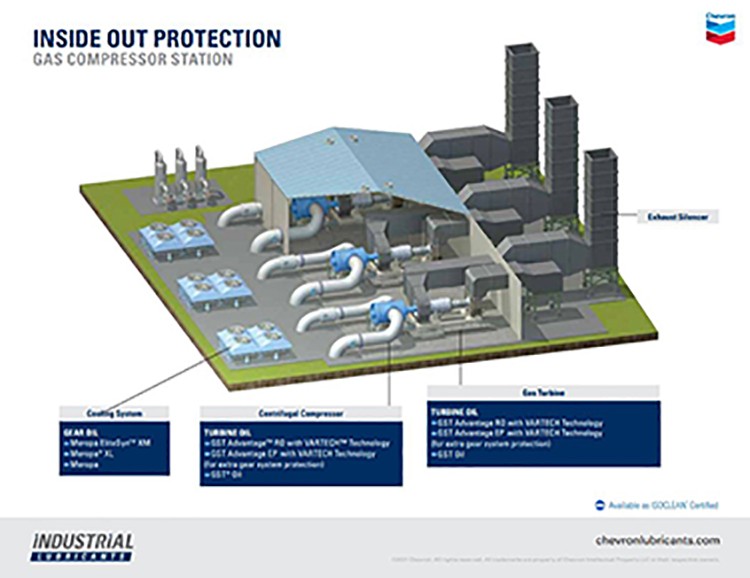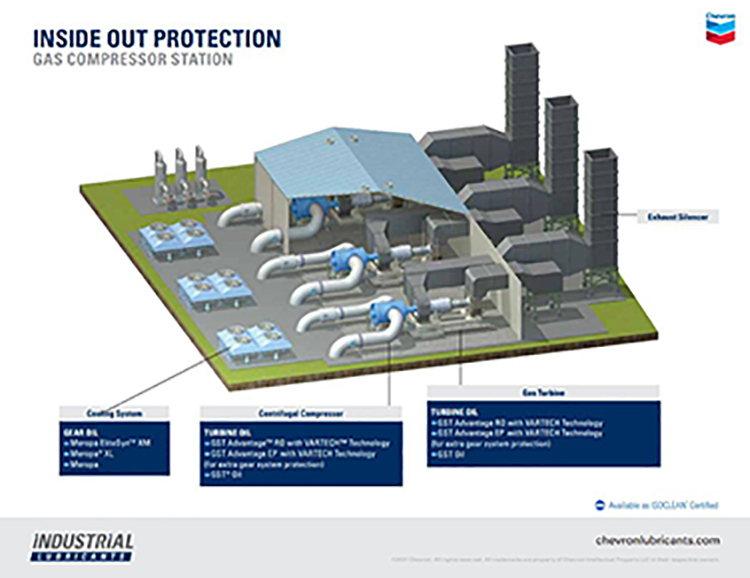 Protection across your operation
Chevron has developed specialized knowledge, outstanding products and tailored programs to cover the full range of applications for gas gathering and compression operations.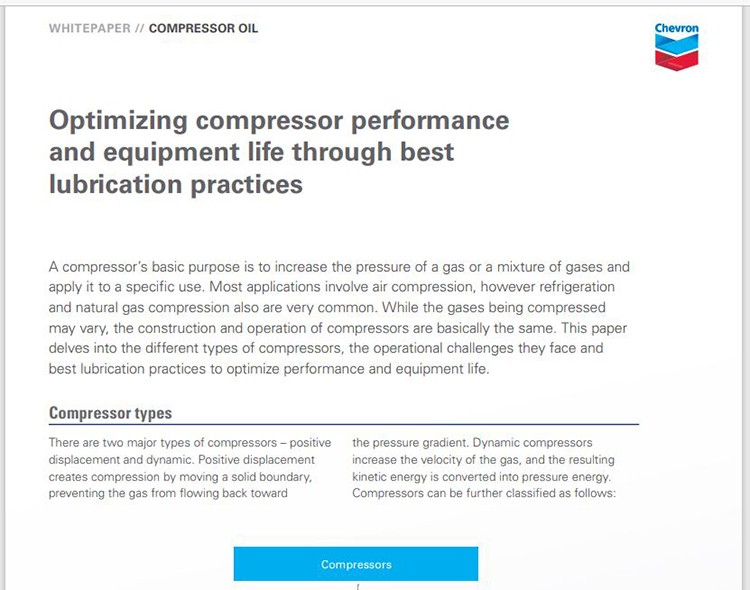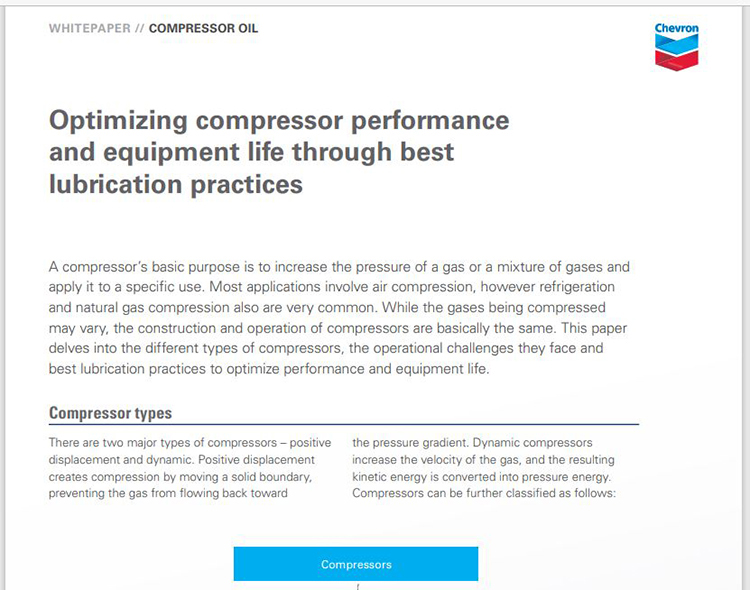 Optimizing compressor performance and equipment life through best lubrication practices
Keep your equipment running better longer with LubeWatch® routine testing and analysis
Ensure your lubricants meet OEM cleanliness requirements to help minimize downtime, reduce maintenance costs, and extend equipment life.