Are you relying on your equipment filters to clean up your oil?

We've posted quite a few articles in this space on the importance of oil cleanliness in reducing the risk of damage to equipment components. Yet we still hear numerous questions. Like, "Why do I need to start with a certified clean oil if my equipment filters will protect my equipment?"
To help answer these questions, Chevron's Research Scientist, Dr. Nathan Knotts, completed a study utilizing an industry standard hydraulic system developed for measuring hydraulic fluid performance. We showcased the results in a webinar, The Ultimate Guide to Oil Contamination, hosted by our friends at Polaris Laboratories.
Equipment filters can help reduce the level of contaminants over time, however during this time damage can occur to equipment parts. As you can see from the chart below, the equipment filter gradually reduced the contamination level of the typical hydraulic oil AW 32 over the 50-hour operating interval. In the second test, the hydraulic system was started with a certified clean Chevron Rando® HD 32 ISOCLEAN® Certified hydraulic oil. The level of cleanliness was maintained from the start of the operating interval to the end.



The hydraulic system parts were inspected after the 150-hour test.  As shown in the hydraulic vanes below, the level of wear was more severe in the system using the typical hydraulic oil AW 32 compared to the system using the Chevron Rando® HD 32 ISOCLEAN® Certified hydraulic oil.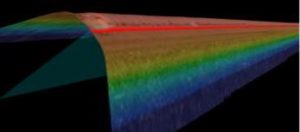 Chevron Rando HD 32 ISOCLEAN® Certified (150 hours)
Typical Hydraulic Fluid B ISO 32
While system filters can help reduce the contamination level of new typical lubricants, damage can occur during this time. It is always recommended to start with certified clean new lubricant that meets the equipment manufacture cleanliness requirements.
You can see the results for yourself in our recorded webinar. In future articles, we'll explore further the impact of oil contamination on critical system components, hydraulic system pressure, and overall equipment performance.