The Delo® traveling technology lab
Delivering Fresh Business Insights

Anyone who attends trucking tradeshows regularly is familiar with the Delo® Truck, a mainstay of industry events since 1999. We launched the truck 20 years ago as a vehicle (pun intended) for sharing knowledge through a mobile education center.  Since then, the Delo Truck has logged three-quarters of a million miles and hosted 150,000 visitors.
The truck was a first in the industry and remains the longest-running mobile exhibit of its type. One constant over the years is how we harnessed the latest visualization technology to tell our story with clarity and impact. In the early days, before flat-screen TVs and mobile computers, that meant using an original CRT touchscreen, a huge fiber-optic map of North  America, and a diagram using polarized light to create animation effects. Today, it means LED video walls and the latest in virtual and augmented reality, all to advance our mission to educate and inform our audiences.
Meanwhile, truck technology has changed dramatically over those 20 years, too. Tighter emission standards and fuel economy goals have led to radical changes in engine design. Just as we have had to rethink our product formulations to keep up with and even ahead of these changes, we saw the 20th anniversary as an opportunity to re-imagine the Delo Truck, front-to-back, from what's under the hood to the content in the trailer, and how visitors engage with it. The result, unveiled at the Great American Trucking Show (GATS) in August, is the Delo Traveling Technology Lab, with 11 exhibits leveraging state-of-the-art digital technologies to deliver immersive, interactive educational experiences. Built on the best practices of modern museum exhibit design, the Traveling Technology Lab combines self-navigated and expert-guided  journeys to help visitors gain insight into the latest truck technology trends, as well as the business issues driving them.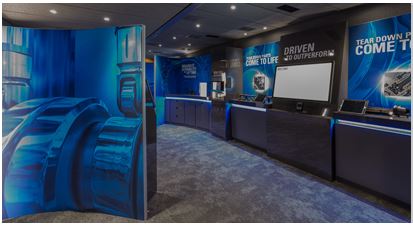 At Chevron, we believe our job is to be more than a developer and supplier of advanced lubrication and coolant technology. We need to complement our products with the professional expertise and services our customers need to advance their business goals. We are focused on identifying industry insights to help businesses be more successful. Those insights are  captured and reflected in the Delo Traveling Technology Lab exhibits. What's more, our technology-powered format gives us the flexibility to adapt our exhibits quickly as new trends and insights emerge.
The Delo Traveling Technology Lab is part of a broader initiative we call "Engineered With Purpose," a product development philosophy that means understanding what matters to our customers and delivering products that meet their needs. That includes finding innovative ways to impart valuable knowledge and information that will help our customers operate more  efficiently, reliably and profitably.
Be on the lookout for the Delo Traveling Technology Lab, coming soon to an industry event near you. Just this year alone, the truck will visit or already has visited the ATA Management Conference & Exhibition, the Farm Progress show, the Big Iron Farm show, a number of our Lubricant Marketers' events, truck stops and OE dealers.
See where the truck is headed next at the Delo Truck Tour Schedule. If you are a Chevron Lubricant Marketer, you can request the truck to attend your company event here.