Delo® 600 ADF : A New Standard in Engine and After-treatment System Protection
The ultra low ash formulation extends DPF service life 2.5 times.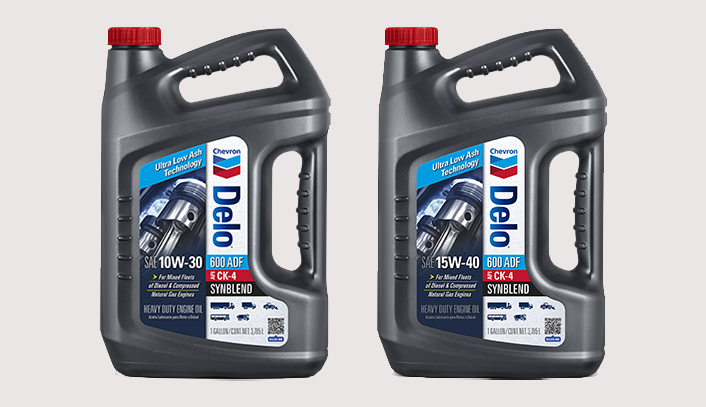 Cleaner air is a goal we can all get behind. Over the past decades, diesel truck and heavy-duty off-road equipment manufacturers and operators have struggled to reconcile this goal with the cost of getting there.
In a series of recent articles, we have examined the impact of exhaust after-treatment systems (EATS), specifically diesel particulate filters (DPFs), on fleet operating costs. In sum, DPFs remove a substantial amount of harmful pollutants from diesel exhaust, but they are also prone to clogging from non-combusted ash generated by metallic additives in diesel engine oil. This hits operating costs in two ways: it increases the maintenance burden for DPF cleaning and repairs, or replacement in the event of unit failure; and it impairs fuel economy.
Current heavy duty engine oil technology simply has not kept pace with the changes in EATS design necessitated by strict emission regulations. At Chevron, however, we have been working on these issues for over a decade, ever since DPFs first appeared in diesel trucks and later in off-highway equipment. We have led the industry in research and development on low ash technology. Our Delo® 400 heavy duty engine oils fall below the 1% maximum ash content mandated by current API CK-4 & FA-4 specifications, but we were driven to go further. At the same time, we recognize the concern of our customers – they want the assurance of optimal protection against wear and oxidation that our additive formulations deliver.
That was the challenge we took on. And after many years of hard work, we have met it.
This month, we are introducing our new Delo 600 ADF, the first ultra low-ash, heavy duty engine oil that reduces by 60% the sulfate ash content of a typical CK-4 oil. Our patented OMNIMAX technology achieves a 0.4% ash level by replacing metallic additives with organic compounds that deliver equally outstanding or better protection. In fact, in rigorous bench and field testing, Delo 600 ADF met or surpassed API CK-4 & OEM performance standards for wear protection, oxidation and deposit control. This new formulation even outperformed competitive API CK-4 oils using conventional metallic-based additives on many measures.
Delo 600 ADF dramatically reduces the ash clogging in diesel particulate filters, potentially saving operators millions per year in maintenance and fuel costs. Tier 4 Final off-highway equipment operators can expect to double DPF service life, while on- highway fleet managers should realize as much as a 3% improvement in fuel economy over the life of a truck – all while maximizing equipment uptime, extending service intervals, and contributing to longer equipment life. There is simply no other API CK-4 oil that protects both the engine and the emission system to deliver these benefits.
This advancement in lubrication technology sets a new standard and raises the bar for the entire heavy duty oil industry. Contact your Chevron Delo representative to learn more about the game-changing benefits of Delo ADF 600 and to find out about availability in your area.